Ostrowski Court
230 Central Avenue
Hackensack, New Jersey 07601
The building is located in a residential area that is comprised of mostly one & two family homes.  It is in close proximity to Hackensack High School.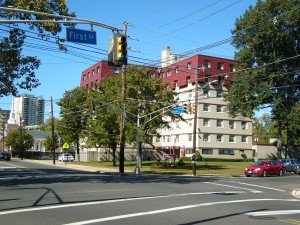 It is bordered as follows:
North:  High Street
South:  Central Avenue
East:  First Street
West:  Second Street
Building Constructed:  1960
Number of units:  50 (6-1 bedrooms, 18-2 bedrooms, 25- Three Bedrooms, 1-4 bedrooms)
Stories:  Seven
Tenants:  Families with children
Parking Spaces:  41
Type of Structure:  Masonry Bearing Wall with poured Concrete Plank
Exteriors Finish:  Masonry Block and Brick
Heating Systems: Steam Heat radiators & hot water on ground floor
Fuel:  Natural gas
Elevators: One conveying (Otis)
HVAC:  Steam heat with radiators, window a/c units
Emergency Power:  Yes
Generator:  Winco,
Fuel: Fuel (natural gas) Fuel Tank  Located in the boiler room which is next to the laundry room on the first floor.
Fire Suppression Systems:
Design:  Compartmental
Sprinklers:  Mean of egress-fully sprinklered
Smoke Detectors:  All units and common areas
Carbon Monoxide: All units
Fire Extinguishers:  None
Communications:  In Elevators Only